Tyre Tread Depth: How To Conduct A Tyre Check.
Checking your tyre tread depth is extremely important. If your tyres are under the tyre tread depth legal limit then you can be fined up to £2500 per tyre as well as three points on your driving license, again per illegal tyre.
The main reason that we want you to check your tyres this Christmas is to keep you and your loved ones safe. If your tyres are unsafe, then we want you to know about it. This is especially the case if you are planning on a long journey. Whether it be to see family or friends, we want to make sure that you get there in one piece.
Many people do not know how to check their tyres. The Infographic below summarises a very simple solution on how to check your tyre tread depth using 'The 20P Test':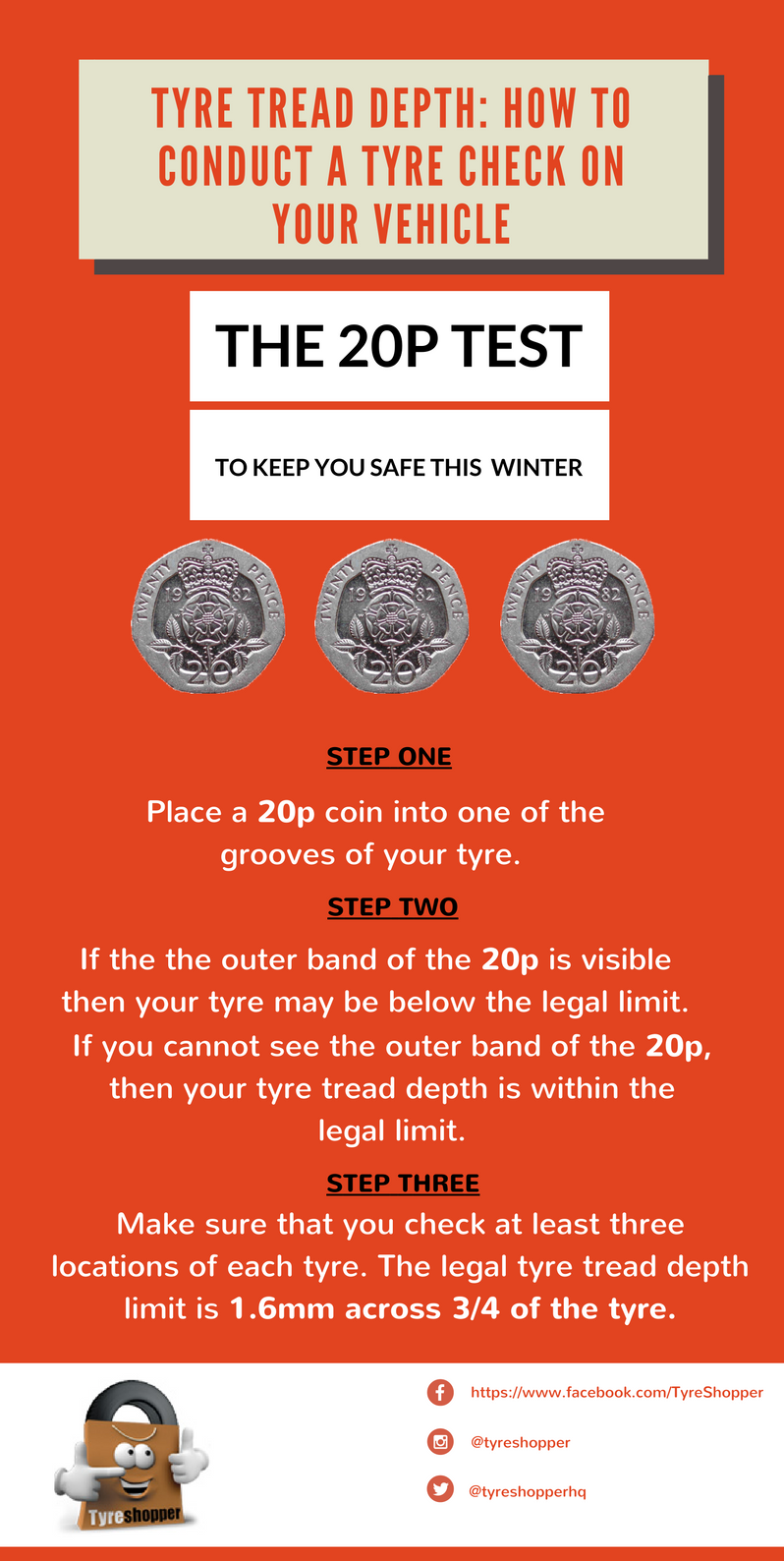 Share this Image On Your Site
Free Tyre Check
The Infographic above displays a virtually free tyre check that you can conduct even if you know nothing about tyres. Also, when anybody asks you "how do I check my tyres?", then you will be able let them know with this simple, cheap and easy tyre check… all for the cost of 20p.
The 20p Tyre Test
First off, place a 20p coin into one of the grooves of your tyre. If you can see the outer band of the 20p, then your tyre is most likely illegal and unsafe to drive. If that is the case, ensure you look to change your tyre immediately. However, if you cannot see the outer band of the 20p then your tyre is legal for the road. View the video below from Tyre Safe to find out more information.
To ensure maximum tyre safety, we recommend that you check your tyres on a regular basis, especially before long journeys. Make sure that you check three different parts of the tyre. The reason for this is that the tyre may have worn unevenly, meaning there would be different levels of wear across the tyre tread.
Tyre Tread Depth Legal Limit
The legal limit in terms of tyre tread depth is 1.6mm across ¾ of the tyre. However, at Tyre Shopper, we recommend that you change your tyres at 3.0mm to ensure maximum car safety. In our Tyre Guide it was found that there were over 3000 accidents as a result of illegal and unsafe tyres. Ensure that you are not one of those statistics, especially around Christmas time and conduct a tyre check today. There are number of other issues which could mean your tyres need changing, read all in our tyre warnings blog article.
This simple, easy and cheap tyre check can help save your life. If you have conducted the 20P tyre test as per the instructions above and have found out that you need a new tyre, we can help with your tyre search.
Find your local FITTING centre or MOBILE fitting service