Tyre Brands | Premium, Quality or Budget?
At Tyre Shopper, we supply a whole host of car tyre brands including Premium, quality and budget options. Premium tyre brands are the leaders within the marketplace and invest heavily in research and development to produce a fantastic range of tyres.
We also supply quality tyres which offer the perfect balance between high-end technology and affordable pricing, making mid-range tyre brands a fantastic alternative. Budget tyres are excellent value for money and offer high performance at low costs. You can be assured that we will find a tyre to fit your budget and your needs. We want to ensure that your search for a tyre is kept as easy and as simple as possible.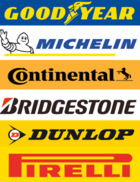 When purchasing premium tyres, you can be confident of getting value for money. Premium tyre brands and manufacturers spend huge amounts of time and money in researching and developing innovative solutions.
Using the latest technology, premium tyre brands provide a mix of desirable qualities, such as reduced noise levels and improved traction. Premium tyres also benefit from vastly improved fuel economy and reduced stopping distances.
High-profile racing events such as Formula 1 and BTCC exclusively use tyres from market-leading tyre manufacturers. You can be assured of the highest quality and performance when purchasing premium tyre brands. At Tyre Shopper, we supply tyres from the likes of Bridgestone, Continental, Dunlop, Goodyear, Michelin and Pirelli.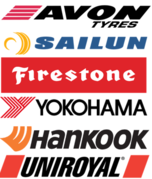 Mid-Range tyre brands allow for the perfect balance between price and technology. Many mid-range tyres are produced by premium manufacturers. Because of this, you can be confident of a high-quality tyre that has undergone extensive, market-leading research and development.
Quality tyres offer excellent grip, no matter the road conditions, and also benefit from high durability to enhance tyre longevity.
Due to the extended life and increased performance from mid-range tyre brands, you can be assured of value for money. These tyres are a fantastic mid-range alternative to fit your budget. At Tyre Shopper, we provide tyres from quality brands such as Avon, Barum, Cooper, Firestone, Hankook, Sailun, Toyo, Uniroyal and Yokohama.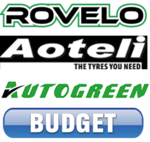 Budget tyres can be a cost-effective solution when looking for good performance at low prices.
At Tyre Shopper, we stock products from different budget tyre brands and manufacturers such as Autogreen and Rovelo.
The performance and quality of budget tyres is maintained to the highest level; however, the price is kept cheap to fit within what you can afford. Budget tyre brands offer reliable products which consistently help steering responsiveness and grip in both dry and wet conditions. If you are looking for the cheapest alternative on a low budget then budget tyre brands will certainly fit your needs.
Why buy from our range of tyre brands?
Whether you're searching for premium tyre brands, mid-range tyre brands or budget tyre brands, you'll find them all here at Tyre Shopper.
As the UK's number one tyre retailer, you won't find the level of quality and service we provide elsewhere. With all the car tyre brands you could ever want all under one roof, you'll never need to look elsewhere. Because we check the prices of our competitors daily, we're able to stay ahead of the rest, offering you some of the best prices on the market.
Not only do we strive to provide you with cost-effective tyres, but we're also dedicated to offering the best customer service possible.
Voted as "excellent" by our customers on Trustpilot, you can get in touch with us whenever you need via our 24/7 call centre on 0800 731 0133, or use our live chat services during UK opening hours.
Find your local FITTING centre or MOBILE fitting service