Fuel Efficient Tyres

With the price of petrol and diesel ever-increasing, you'll want to make sure your vehicle is fitted with fuel-efficient tyres.
Here at Tyre Shopper, we offer a great range of these tyres with the best prices online, so if you want to save money and make a top choice for the environment too, you've come to the right place.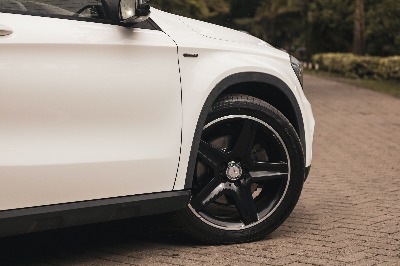 What are fuel-efficient tyres?
Fuel-efficient tyres are designed to consume less petrol whilst not wearing the tread down any more than a regular tyre. This technology prevents additional carbon dioxide emissions, so they're the green choice too.
How to tell if tyres are fuel efficient
EU tyre labelling, which became legislation in 2012, provides information on the sidewall of European tyres for fuel efficiency, wet grip and noise emissions.
These come in the form of little symbols which enable buyers, looking for tyre offers online, to make an informed decision before purchasing.
This simple system allows motorists to choose the most fuel-efficient tyre in the correct size for their existing wheels.
Tyres now come with a fuel efficiency rating from A (most fuel-efficient) to G (least fuel-efficient).
The better the fuel efficiency, the lower the cost of motoring and the less harmful carbon dioxide is pumped into the atmosphere.
Choosing A-rated tyres over G-rated tyres could give you a saving of 7.5% in fuel.
Which manufacturers sell these tyres?
Manufacturers have embraced the thinking behind fuel efficiency in design concepts by producing their own more fuel-efficient tyre ranges.
Bridgestone have their Ecopia range and you can now buy the Energy Saver range of Michelin tyres.
Other manufacturers continue to develop new tyre technologies, including improved compounds that help to reduce fuel consumption.
More tips on how to save fuel
One way to save on fuel is to be light-footed on the accelerator. Frequent speeding up and slowing down again takes a toll on the fuel that the vehicle burns through.
Tyre pressure also needs to be regularly every two weeks and/or before a long road journey to ensure it is at the correct levels. You can find this in your manual. The slightest drop in car tyre pressure can mean you'll be guzzling fuel at a furious pace.
Is it worth getting fuel-efficient tyres?
Fuel-efficient tyres will help save you money in the long term. With fuel prices on the rise, a set of fuel-efficient tyres will ensure that you get more miles per gallon when driving, and in turn make your fuel last longer.
Whilst the initial outlay may be slightly more expensive than a set of budget tyres, you'll save more money overall as your car will be more fuel efficient. Therefore, you won't need to fill up with petrol or diesel as often as you'll get more range on a full tank.
What are eco tyres?
Eco tyres are another name for fuel-efficient tyres. They help reduce the rolling resistance, which will greatly improve fuel efficiency when compared to non-eco tyres. Eco tyres can also help reduce your CO2 emissions, thanks to the rolling resistance reduction. This can help reduce your vehicle's overall carbon footprint, as well as save fuel.
How much fuel can good tyres save?
Tyres which have an A rating for fuel efficiency could save you up to 7.5% in fuel, when compared to tyres rated G for fuel efficiency. Paying a bit extra for a high rating could save you lots of money in the long run, as you won't have to fill up as often.
Frequently asked questions
Low-profile tyres are a great option for fuel efficiency. These tyres have a lower rolling resistance than standard tyres, and will therefore save plenty of fuel in the long term. This is thanks to a simple tread pattern and stiffer sidewalls.
Tyres will have an impact on a lot of the performance of your car, including braking and handling. Both of these are key to fuel efficiency. Therefore, if you buy better tyres, you are likely to have better fuel efficiency as well.
Fuel-efficient tyres are also known as energy-saving tyres. Energy savers are designed to use less energy to move the car and therefore use less fuel whilst driving.
On hand to help
If you need help understanding your tyre fuel efficiency labels or you simply have a quick query, we're only too happy to advise. Contact us today as our experts are always on hand.
Find your local FITTING centre or MOBILE fitting service