What's The Difference Between Summer and Winter Tyres
For those who live in regions of the country with extreme weather, it's worth considering investing in a set of summer tyres and winter tyres so that you're safe to drive in all weather conditions.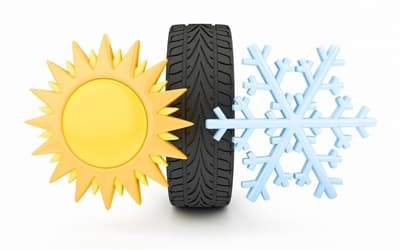 From an outside perspective though, it might look like summer tyres and winter tyres aren't all that different, so the extra cost of buying a set of each won't seem too appealing.
We're here to give you a clear insight into the differences between summer and winter tyres so you can make an educated decision about whether to buy them or not.
Something to keep in mind is that some insurers may see winter tyres as a car modification. Before you change your tyres, be sure to inform your insurer to see if it affects your policy in any way.
Winter tyres
Winter tyres have a different structure, rubber compound, and tread pattern to summer tyres, meaning that they will help you stay safe on the roads in snow or ice. With a higher natural rubber content, they stay more supple in the cold, and they'll perform best in temperatures below 7°C.
Naturally, the softer the tyre is, the more it can alter its shape to meet the road surface. This means that winter tyres are improved by greater grip and handling. Their tread blocks are deeper to disperse water and prevent aquaplaning, and they work by digging deeper into the snow, slush, and ice to ensure good grip.
Similarly, their deep tread pattern provides room for snow so that it can fuse with other snow, adding traction to move the car forwards as it drives. Unlike summer tyres, winter tyres should be replaced when their tread depth reaches 4mm.
What are the benefits of winter tyres?
Enhanced road grip
Boosted safety in winter conditions
Better stopping distances in wintery conditions
Summer Tyres
Summer tyres have less natural rubber in their makeup than winter tyres, meaning that they harden quickly in cold temperatures, reducing grip on the road. However, they do provide better all-round performance than winter tyres, and although they perform best in temperatures above 7°C, they can be worn in wintery conditions if they are driven on carefully. They'll perform best in temperatures above 7°C.
Summer tyres have fewer sipes and specially designed tread bars to minimise aquaplaning. With less deep tread, they have lower friction and are therefore more fuel-efficient, whilst ensuring a large footprint with the road for excellent handling.
Better year-round performance
More fuel-efficient
Better steering response
Find your local FITTING centre or MOBILE fitting service